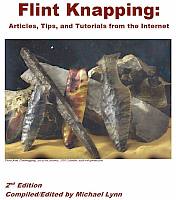 Flint Knapping:
2nd Edition
Compiled/Edited by Michael Lynn

Dedicated to all those who have taught someone else about the art of flint knapping, especially to my primary teachers – Bruce Boda, Tim Dillard, Mike McGrath and Steve Nissly. This is my attempt to pay forward. © Michael Lynn, 2010
Although the copyrights to the individual articles and tutorials in this Ebook belong to the authors, I have copyrighted this collection. It may be freely printed, copied, posted on the Internet and otherwise distributed as long as said distribution is free and appropriate credit is given to me and the authors. This Ebook may not be sold for profit.

We offer the Ebook on CD for our cost of materials and shipping. Offered for only $2.00! Shipping costs are just that COST. We do not profit from shipping.
To begin your download; click the download button.